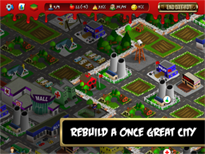 Rebuild Mobile
For iPad & iPhone, Android, Kindle Fire and the BlackBerry PlayBook
Gather survivors of the zombie apocalypse and manage resources while defending against undead attacks. Reclaim the city one square at a time and put your survivors to work scavenging for food, building houses, rediscovering technology and of course killing zombies.
Beware of rival gangs, illness, thieves and even riots as you rebuild a city in this post apocalyptic turn based strategy game.
For those who've played the browser-based Rebuild 2, the mobile version is pretty similar. But just for you I've added new endings, buildings, tech, events, and a winter challenge mode.
Get it from the iTunes Store, Google Play, the Amazon Appstore, or BlackBerry App World